Current Class Spotlight: Olson Miller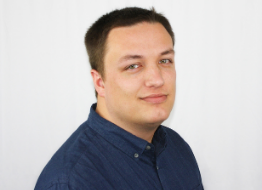 Olson Miller, owner of OM Design & Photography, is a Media Specialist, freelance graphic designer, and photographer. As an entrepreneurial small business owner, he manages social media and provides design services for several Ottumwa businesses. Olson earned his Associate of Science in Interactive Media and an Associate of Arts degree from Indian Hills Community College.
When asked what drew him to the Ottumwa Leadership Academy he said "I am from Ottumwa originally but moved when I was younger. I wanted to learn more about the community and increase my network of professional connections." Now, eight months into the Academy, he has learned how to better communicate with both his clients and peers.