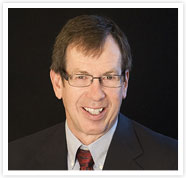 The Dean position of Ottumwa Leadership Academy is a volunteer position, appointed annually by the Advisory Board. The Dean directs the curriculum and facilitates the learning sessions for Ottumwa Leadership Academy.
Dr. Haas is a native Iowan who has worked as an OB/GYN physician in Ottumwa for the past 33 years. He graduated from Loras College with a BS, earned his MD from the University of Iowa and completed his OB/GYN residency in 1980 from the UI Hospitals and Clinics.
Dr. Haas has served on many boards and committees at local, state, and regional levels. His leadership in the community includes the Ottumwa Regional Health Center Board of Directors, Ottumwa Medical Clinic Secretary, St. Mary of the Visitation Finance Council, Parish Council, and Restoration Committee, and served as co-chair for the YES, OHS! High School Renovation Committee. He is a past member of Hy-Noon Kiwanis Club and has previously served on the Board of Directors for Ottumwa Regional Health Foundation. Dr. Haas and his wife Dianne were co-recipients of the Gene Schultz Community Service Award.